DIY Cat Deterrent with Eucalyptus Oil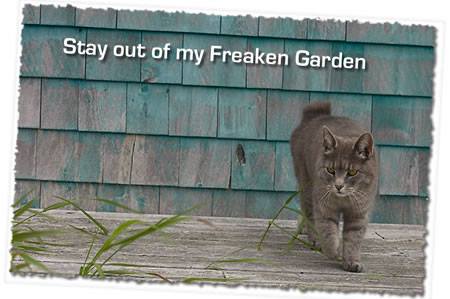 Here at Emu Ridge Eucalyptus Distillery we are proud to stock 100% pure essential oils, all produced inAustralia. Our very own Eucalyptus oil is so versatile and we are constantly finding and documenting more recipes and uses. We have been producing 100% Pure Eucalyptus oil since 1991. Eucalyptus oil is antibacterial and anti-fungal, removes oil based stains and sticky things, acts as a penetrating oil, as well as having medicinal properties. Therefore is an ideal natural product for in and around the house, in the workshop and for the body. One of our most popular is our cat deterrent. Please read on for more information including the recipe.
CAT DETERRENT
Even the most ardent cat lovers don't appreciate the smell of cat urine indoors or outdoors. Cats who use flower beds as a litter box present an even more serious problem. While it's difficult to convince cats to do anything
 they don't want to do, you can make homemade cat repellent that may convince cats to take their business elsewhere. Homemade cat spray is safe and environmentally friendly.
Here is a few ideas to keep them at bay from areas you don't want them:
Eucalyptus and Lemon may be the very essence of freshness to humans, but to animals, especially cats, it's off-putting. Cats have 40 times the number of odor-sensitive cells in their noses as humans, according to PetPlace. Because of their superior smelling abilities, they are sensitive to citrus-based products and Eucalyptus oil. Eucalyptus oil is used as a deterrent for numerous animals, among them fleas, mosquitoes, mice and rats and — and you guessed it — cats. Use both of these natural repellents to your advantage.
Recipe
600ml of water into a 1lt spray bottle
400ml of vinegar or apple cider vinegar
the zest of one lemon
20 drops Emu Ridge eucalyptus oil.
Shake and spray where you would like cats to avoid. It does a great job!
This method not only helps deter your cat from destroying furniture or walls, but gives your a house a beautiful clean fresh smell as well!
You can also Soak a cotton bud or ball in Eucalyptus oil and put it in the pot plants that they like to keep them away and pop them any other areas that are off-limits to cats.
Even some oil on a tissue in the vents of your car another favorite spot for cats to mark their territory will help keep them away!
For 100% pure Australian Eucalyptus Oil go to our online SHOP 
Another Handy Hint:
Indoors – Cats dislike water and the prospect of getting wet. Indoors, if you catch your cat approaching an area you want to keep him out of like scratching furniture, give him a quick spritz of water from a spray bottle. Repeat this process until he doesn't return to the area again. The spray can also be applied to a cloth and wiped onto specific spots.
 I love my plants and so do cats. You can use eucalyptus oils at the base of your plants, you can spray a mix of eucalyptus oil and water. It's not harmful for the plants but it keeps my cats at bay, too.
Outdoors –
For outdoor areas, you can purchase an automatic sprinkler attached to a motion sensor and place it in your garden. These sprinklers spray cats who approach an off-limits area with a harmless burst of water, discouraging them from coming back.
Secure you rubbish
Coffee grounds mixed with citrus peels
Certain plants when planted around your garden beds work as a repellent for cats to, ask you local plant nursery.
Emu Ridge Eucalyptus Oil
This unique oil is the only one of it's kind in the world. It is distilled from the leaf of the Kangaroo Island Narrow Leaf Mallee (Eucalyptus cneorifolia). Emu Ridge is the only commercial Eucalyptus Distillery remaining in South Australia.
Distillation of the oil began in the 1880's and dozens of stills were established, making it one of the Island's major industries.
One company, F.H.Faulding & Co purchased Emu Ridge in 1923, establishing two plantations in 1938 for the purpose of systematically harvesting it on a rotational basis. (The Narrow Leaf responds well to pruning.) Most success, however, was achieved by individuals who set up stills as a seasonal sideline.
Our oil is distilled in the traditional method at Emu Ridge. The leaf is placed into a pot containing water, beneath which a fire is lit, steam carrying the oil is passed through a system of cooling pipes, the oil separates and is piped off into containers. The raw oil undergoes another refining process to produce the final product crystal clear oil.
Native farming is far better for our environment, no sprays and chemicals, a great renewable resource and natural product.
SOME USES FOR THIS VERSATILE & 100% NATURAL OIL
In and around the house:
A disinfectant for cleaning floors, toilets etc
A deodorizer, a spot & stain remover, e.g. soiled clothing, anything sticky, stickers, chewing gum, paint & ink marks.
Cleans bathroom tiles, brass, ovens, plastic & vinyl. For washing woolens & clothing.
The Body: For cuts, burns and abrasions, the oil is a natural antiseptic, acne, relieves insect bites, is an insect repellent, soothes muscular aches & pains, a mouthwash, hand & skin cleaner, training oil, in the bath for a feeling of wellbeing, a decongestant for colds and flu by vaporization, inhalation or embrocation, for sore throats, (adults a few drops with a teaspoon of honey).
In the workshop: Cleans paint brushes, removes tar & stains & is a penetrating oil for any seized or rusted parts.
Animals: For cleaning pets, removing fleas and ticks.